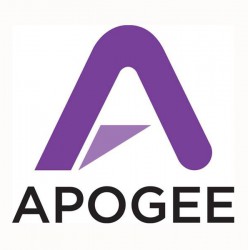 Apogee Symphony I/O MKII SoundGrid 16x16 + 8 Mic Preamps
15 054 BYN предложить свою цену
Код товара:
27668
Гарантия: 12 месяцев
Наличие:
Под заказ
Доставка: Уточняйте у консультанта (от 2 дней)
27668
With a simple ethernet connection, the Apogee Symphony I/O MKII SoundGrid 16x16 + 8 Mic Preamps brings ultimate sound quality to the infinite possibilities of a Waves SoundGrid network system. The version has its module I/O slots populated with one 16 analog in/16 analog out module, and one 8 mic preamp module.
Freely connect multiple spaces, multiple workstations and almost infinite DSP power to build your ideal audio network solution. The SoundGrid System is a real-time processing and networking platform that allows your DAW to offload its plug-in processing. SoundGrid integrates seamlessly with all DAWs and Symphony I/O SoundGrid providing endless possibilities for setups of every size in studio, live and post production workflows.
Legendary Sound Quality
Apogee engineers have made it their passion to improve every new flagship product by using the latest in electrical components and designing optimized circuitry that often exceeds the expectations of the component manufacturer. This is the Apogee Advantage. Symphony I/O Mk II is the culmination of this 30 year commitment and raises the bar on all Apogee products before it with even better audio clarity and sonic transparency. In fact, when equipped with either the new 8×8 or 16×16 Mk II I/O modules, Symphony I/O Mk II outperforms all other multi-channel audio interfaces making it the flagship audio interface for the entire professional audio industry and the obvious choice for countless GRAMMY winning artists, producers, songwriters and engineers.
16×16 Analog I/O (1)
16 channels of I/O simultaneously:
Analog IN: 16 balanced inputs on 2 DSUB 25-pin connectors
Coax IN: S/PDIF on 1 RCA connector
Analog OUT: 16 balanced outputs on 2 DSUB 25-pin connectors
Coax OUT: Supports SPDIF on 1 RCA connector
8 Channel Mic Preamp Module
Symphony I/O Mk II's mic pre module includes 8 uniquely designed channels of Apogee's Advanced Stepped Gain Architecture, in which the circuit is dynamically optimized to provide superior bandwidth, ultra low noise and nonexistent distortion across the unprecedented gain range of 0-85 dB. Whether recording powerful drums, dynamic vocals or delicate strings, your recordings retain the full impact, intricate detail and lifelike dimension of the original performance.
Symphony I/O Mk II's Mic pre module also includes 8 channels of digitally-controlled analog inserts, so that outboard processors like EQ and compression may be inserted into the signal path between the mic preamp and the A/D conversion stage effortlessly. Because the inserts are digitally-controlled from Symphony Control software, any insert can be assigned to any input channel – there's no need to physically reconnect your outboard equipment to a different insert channel.
Features:
Ultimate Sound Quality – Featuring Apogee's Flagship AD/DA conversion and mic preamps (optional)
Real-Time Processing – Run hundreds of plug-ins simultaneously
Low-Latency Monitoring – Track and rehearse with full-on plug-ins in near-zero latency
Networking – Connect everything and everyone through a centralized hub
Seamless Integration – Connect multiple DAWs on Mac and Windows computers
Open Architecture – Compliant with SoundGrid-compatible Waves and third-party plug-ins
Заводская спецификация и комплектация с сайта производителя