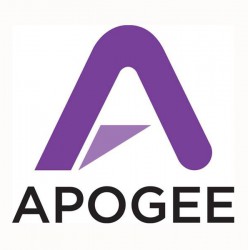 Apogee Symphony I/O MKII Pro Tools HD 32X32
$ 7 490 предложить свою цену
Код товара:
27664
Гарантия: 12 месяцев
Наличие:
Под заказ
Доставка: Уточняйте у консультанта (от 2 дней)
27664
Apogee Symphony I/O Mk II is designed for the Pro Tools HD user who needs a multi-channel audio interface with the best sound quality at an incredible cost per channel value. Whether using a Mac or PC based studio, Symphony I/O Mk II HD can connect directly to the Digilink port on your Pro Tools HDX, Pro Tools HD Native or Pro Tools Core/Accel systems.
Symphony I/O Mk II HD can be utilized alongside or in place of Avid® or Digidesign® interfaces for Pro Tools HD. In fact, each I/O module installed in Symphony I/O Mk II HD appears and functions in Pro Tools HD the same if it were a separate Avid HD I/O interface, so set up is easy and you can take advantage of important Pro Tools features such as sample-accurate delay compensation.
Symphony I/O Mk II is a multi-channel audio interface featuring Apogee's newest flagship AD/DA conversion, modular I/O (up to 32 inputs and outputs), intuitive touchscreen display and optional world-class microphone preamps. Designed to deliver professional sound quality for audio recording, mixing and mastering, Symphony I/O Mk II is the ultimate music production centerpiece for any modern studio.
Analog to Digital:
THD+N: -115dB @ 22dBu (0.00020%) unweighted
Dynamic range: 122dB A weighted
Maximum input levels:
+4dB setting: +24dBu
-10dB setting: +6dBV
Frequency response at 44.1kHz: 1-20,000 Hz (+/- 0.05dB)
Input impedance: 10K
Digital to Analog:
THD+N: -119dB @ 21dBu (0.00014%) unweighted
Dynamic Range: 126dB A weighted
Max output levels – ∞ to +24dBu
Frequency response at 44.1 kHz: dc to 20kHz (+/- 0.05dB)
Output impedance: 25 Ohm
Outputs are balanced through Apogee's proprietary Perfect Symmetry Circuitry (PSC)
Headphone Output:
1 stereo 1/4″ headphone output on front panel
THD+N:
-110dB @19dBu into 600 Ohm (=80mW)
-101dB @14dBu into 32 Ohm (=470mW)
Dynamic Range: 121db A weighted
Output: Apogee's proprietary Constant Current Drive™ provides smooth frequency response with any headphones
Power:
Operating System:
HD: Any Mac or PC running Pro Tools HD 9 or greater
Package Contents:
Symphony I/O Mk II Interface
Power Cable
Quick Start Guide
Warranty Booklet
Symphony I/O Mk II Dimensions:
Inches: 17.75 (19 with Rack Ears) x 11.5 x 3.5
Centimeters: 45 (48.26 with Rack Ears) x 29.2 x 8.9
Packaging Dimensions:
Symphony I/O Chassis Box
Inches: 22.875 x 17.75 x 9.25
Centimeters: 58.1 x 45.1 x 23.5
I/O Module Box
Inches: 13.75 x 12.25 x 3.25
Centimeters: 34.9 x 31.1 x 8.3
Features:
Best performance of any multi-channel Pro Tools HD interface
Best cost per channel value of any Pro Tools HD interface solution
Connects directly to any Pro Tools HD system via DigiLink port (Mac or PC)
Emulates Avid HD I/O interface, including sample-accurate delay compensation
Connect multiple units in a single system (1 unit per HD Digilink port)
Easy I/O calibration with front panel touchscreen
Ultra-low latency performance
Intuitive touchscreen display and front panel control
Option card slot for future platform flexibility
Designed in California, Built in the U.S.A.
Заводская спецификация и комплектация с сайта производителя